I Won a Liebster Award
Posted on 20 January, 2016
---
My girl Michelle from Fine Natural Hair and Faith nominated me for a Liebster Award, which is passed from blogger to blogger  to help readers discover new blogs.
I've been following Michelle for years because she knows her stuff. Her blog stays updated, it's informative, and she interacts with her readers. A tag from her is an honor.
Here are the award rules:
Thank your nominator by linking to their blog
Answer 10 questions provided to you by the person who nominated you
Nominate 5 – 10 deserving bloggers (who have less than 1,000 followers according to Google)
Create a new list of questions for the blogger to answer
Let's do this…
What is your biggest hair challenge?
Moisture. Sometimes I worry that I can rub two dreads together and start a fire.
If you could publish a book, what would you call it and why?
Marking Time. This is a military term which means marching in place. I feel like that sometimes…like I'm moving but not making progress. It's one of the things I'm working on improving in my life.
What is your favorite cosmetics brand?
Whatever's cheapest. I wear makeup maybe three times a year, so I don't invest a lot.
Plain Jane
If you could color your hair, what color would it be?
I've never wanted to color my hair.
What 1 area of your life would you like to improve?
My diet is horrible. I exercise every day but deep down I know I won't see  my best results until I start eating better.
Me if I don't improve my diet
What 1 area of your life do you have it all together?
Um, can I get back to you on this one?
Your favorite scripture or quote?
If you had the opportunity to work at another profession, what would it be and why?
A pop star. Particularly in a metal band.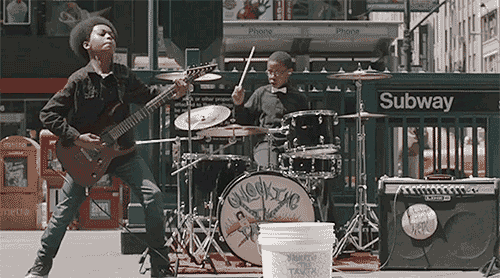 Twist out, braid out, roller set, wash and go or straight hair?
Wash and go. I'm lazy. The easier, the better #noshame
And now my 10 questions for
Describe your natural hair journey in one sentence.
What was the last place you vacationed and where is (or would you like to be) the next?
Why did you start blogging?
Name one celeb you'd love to meet in person.
Are you where you thought you'd be 5 years ago?
Amazon or eBay?
Do you feel like your hair routine is perfected or are you still learning?
What past or present TV character are you?
What's the last movie you saw.
The world ends tomorrow morning. What do you do tonight?
Hope to hear from you soon, ladies.
And I'd love to learn more about you, reader. Answer any or all of my questions in the comments. Or, if you like, be my next nomination and spread the love on your blog.
Let's get to know each other.